---
The Starman - Upon the Mighty Raging Sea
written and illustrated by Kathleen R Holliday
you may copy this story and photographic art as long as you give credit to the author
---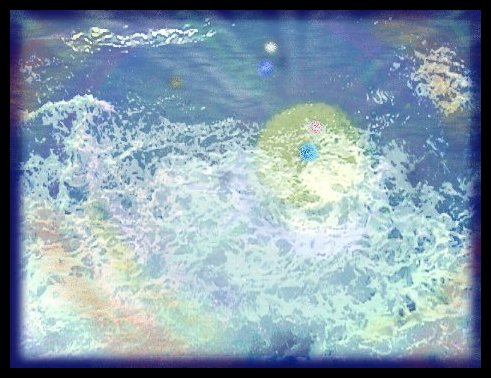 Upon the mighty raging sea, whirlpools of fiery sparks,
Catherine wheels of light and mist mix with the foam of time.
Tossed by unseen movements a tiny globe is floating on the tides and flotsam swirls around its contours, attracted by invisible smooth ripples.
Dashed to smooth curves, rare and precious treasure pebbles dance in the flotsam, around the tiny globe, lost in that vast sea, tossed aside by finned entities.
Together they ride the foam of endless ocean.
Upon his bed of green soft flotsam, in peaceful tranquillity, gazing out at other treasure pebbles, upon the most precious jewelled blue sapphire, swimming in the azure sea, the purple man soaks up the rays of green made by the yellow globe.
The purple man sees and understands.
The lines of his world are shining silver light, for him there is no darkness in the night. Beset by cares he glances at the fractal flotsam and sees himself reflected, unfolding, timeless. Cares melt in mellow green.