---
Upon the Mighty Raging Sea page 5
---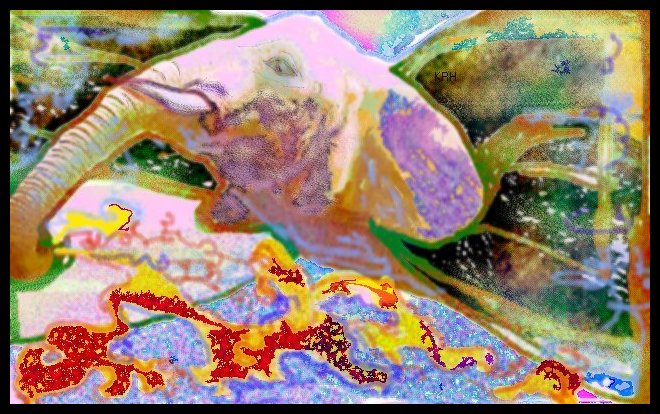 Purple light shines green around the gate and all pass to and fro.
There were the flying elephants of old, bright butterfly wings and iridescent scales, and fire within they blew and rose to mate high in the careless foam of space.

---
"I see, I see," the purple man exclaims, "And I will leave a legacy." Then taking out his notebook draws a stone and then another, places both together high upon the hill.

"All shall know!" he cries and gives them eyes and crowns. Thrones they hold with firm rock fingers, king and queen in rock of jewels tiny crystal shimmers. Eyes gaze out along the silver lines of truth, eyes of stone, and he cuts a small notch in the place the eyes alight their vision.

"Now all will know." He spreads his cloak and sleeps beneath the hill in quiet satisfaction but dreams he did the task and lost in thought forgets. Stones stand waiting in dreams of eyes that only dreamers see and ride the light that only globe green rays can ride in pale yellow day.