Scholes Village Organisation

Updated 31-Mar-2013 Previous Update :25-08-2005

I did include news items from the records of this organisation to demonstrate the water run-off problem in the area downhill from the field at Keppels known as "Admiral's Field" into all areas downhill including Scholes Village. These items were from 2002

I have since been ordered to remove logos and selections of text that I had copied from the Scholes Village Organisation's publicly available online news page.

According to copyright laws, I am allowed to post a link for the purpose of criticism and argument, and I am allowed to quote a small section of text to put forward my view to support my criticism. I have removed their logo and will be including here communication I have recieved from them to support their objections fairly. I have omitted names for obvious reasons. I am also including mail correspondence from other people concerning this strange turn of events. This is a small quote from the past news (from 2002 - 2005) pages I found online at www.scholesvillage.org/news prev years.htm in the public domain at the Scholes Village site:- "Water, Water, Everywhere - Two cottages were affected by water in the latest downpour. The problem seems to be blocked drains in the Coppice field. A visit to consider the drainage problems from the Coppice field (owned by Rotherham) and the Wentworth fields behind the School House and neighbouring properties is still awaited. We will be pursuing this, together with the concern over the Cricket Ground and the Village Green. In the meantime a land drain behind the Old School has been unblocked and improvements to the ditches are being sought."

Cottages were said to have been affected by water again in later items. There was an item stating they had been asking Rotherham Metropolitan Borough Council to unblock the drains in Keppels field and theWentworth estate had been contacted to sort out the drain behind The School House.Other areas of concern which were included were the Cricket Ground and the village green. A meeting was held on 14th February 2005 between Scholes occupiers and someone from Wentworth Estates. He reportedly said that he could not do anything until the Council had sorted their drain out.There was some flooding of the manhole near the bend going out the village. It was said on investigation that no problems had been found. It was agreed that the water may just be coming from the roadside verges.

UPDATE 2013 : The Scholes Village Organisation website has been changed considerably so the past news is no longer visible. However I did find reference to the cancellation of the village fete due to waterlogged ground after heavy rain. This is on their website


* * *

These entries in this ongoing online record show that the village has been flooded periodically. It is most likely due to water runoff from the field above, although they did say that there was water from roadside verges and that the disused mines in the area needed attention. One open mine shaft had to be capped by the landowners.

* * *

It is my view that as I have published here, water from Keppels is definitely damaging the Ancient Woodlands and the Ancient Monument they contain and it is logical and consistant that any downhill area will suffer from water runoff from the field. Filling in of the drainage culverts on the field near to Keppel's column is also having an effect on the water table in surrounding areas.

These are culverts filled with pea gravel and standing water on the field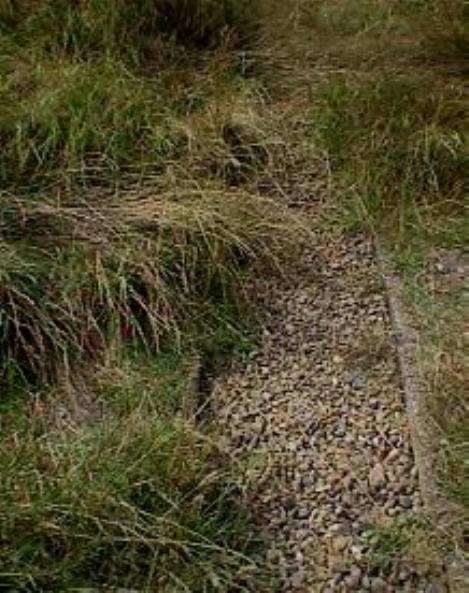 These are tracks left as a darker green grass where the culverts lay beneath grass. The darker colour is caused by water standing in the culverts. Please note the absence of wild flowers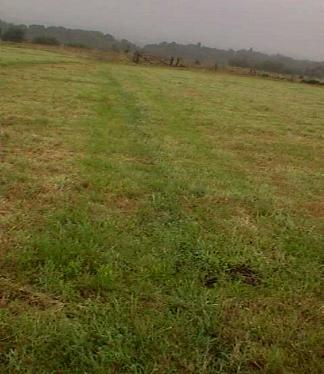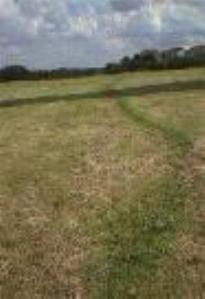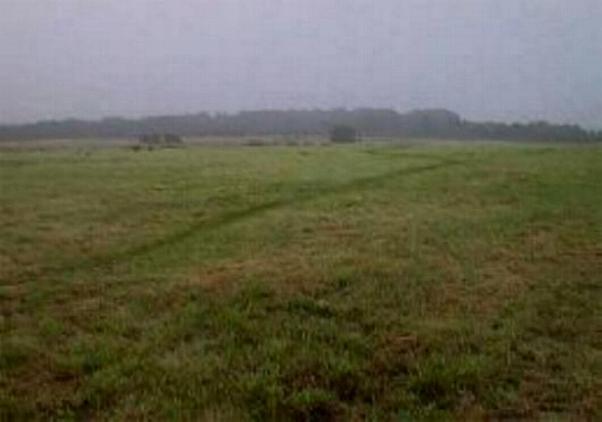 This is the runoff directly into woods from Keppels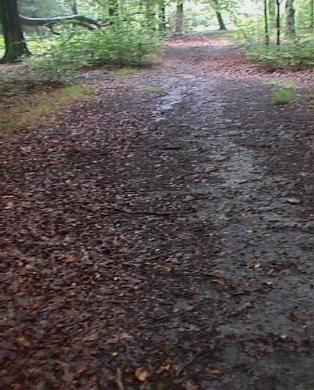 I do not understand why the representatives of the villagers at Scholes, and the people working to conserve open countryside at Keppels do not want to accept that the problem would be easily solved by either removing pea gravel from the drainage culverts so that the water flows into the stream running through Thorpe Hesley, or allow the trees to grow back on the field as they would pump water from the ground naturally. This would take longer but if the land is not going to be developed it is the simplest and best solution.
Rotherham Metropolitan Borough Council have made efforts at conserving the woodlands by employing managers to oversee the problems yet in practice their actions are actually causing degradation. The only reason that the area around Keppels is now a field is due to clearance of woodland there at the end of WW2, prisoners of war were employed to take surface coal, then replaced the soil. Trees planted didn't do well because of the removal of larger trees that had previously pumped gallons of water from the ground. So to combat the rising water table, the culverts were dug, they are channels cut into the ground and lined with concrete. The trees have grown back a little since then only to be cleared, the wild flowers and grasses mown, wetland has been created complete with bullrushes growing out of pebble-filled culverts, and highland cattle grazed behing a heavy fence. This means that the ecology is being altered artificially. Heather makes the soil more acid and grazing will harm early flowering plants. Mowing is obviously bad for plants that reproduce by seeding. There is a well-meaning group lead by a member of the council called "Friends of Keppel's Field" who have been chaired by a member of the council but they appear to think that it is a natural grassland although my map references demonstrate that it was Ancient Woodland less than 60 years ago. In our conversation the grassland manager employed by RMBC said he was pleased that the heather that has seeded by wind blown from the moors is spreading, and said that he intends to remove the young oaks that have self set on the edge of the field.
This is catastrophic for the natural environment as it will change the ecology to a bleak moorland-type rather than a lush wooded-type, in addition to not resolving the problem of water running off the field directly into the ditches of the monument.
The cost in real terms is losing beautiful Ancient woodland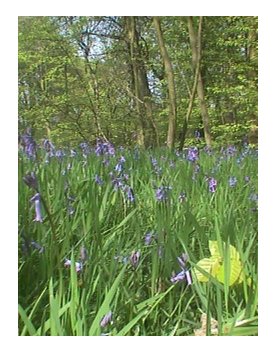 with groves of oak trees, also an Ancient Monumentthat is a double ditch oval earthwork from at the latest the Mid Iron Age, and possibly much older.

I am not attacking the homeowners of Scholes village, I am putting forward the situation backed by evidence that you can see very clearly in these pages. I am proposing a solution that will definitely help to stop the problems with water that the Scholes representatives have published in the public domain.
They could have their cricket pitch restored to the condition it was in 15 years ago and I am sure that it must be awful to dread heavy rain
My proposals would stop the water runoff from the hill above the village.
The result of the present situation is obviously going to be to dry out the land below at Thorpe Hesley, where Wentworth estates and RMBC were going to build 1,200 houses between them but that were refused planning permission a couple of years ago.
I feel that it is directly connected to the newly proposed 600 houses and also the road that they have wanted since the 70's to expand the town outwards, and feed traffic along a duel carriageway up to the motorway roundabout at Thorpe Hesley.
There was even a proposal in the 60's and70's to build an industrial site at Thorpe Hesley.
The plans for development in this area should be abandoned, the Ancient woodlands that we have left now as isolated island areas should be a high priority, they need no interference from us as they have existed for thousands of years without our help. The woodland manager was fine, the removing of beech trees planted 30 years ago is a good move as it will encourage the oaks and other native trees to flourish but they need to be allowed to take back the land above that was cleared 50 years ago. The earthwork is unique and should be appreciated and cared for as a priority as it is our heritage and the heritage of future generations.
* * *


On the 18 May 2005, Rotherham Council agreed to sell land .which will be used to provide an access road from the common land in the village to the Wentworth estate. This was agreed without consulting users of this open space. A detailed planning application to build 600 houses, by Bryant Homes, is expected shortly.
* * *
The following items are mail sent to me about these issues. This was after I was invited to meet the STAG members and was given permission to use the STAG logo on my pages, (the Scholes Village Organisation is a seperate group), and after I submitted a post on the Sheffield Indemedia website and included news items from the Scholes Village website
Hi K
It was good to meet you too. Thank you for an additional insight that we will follow-up on. I will also ask the drainage specialist in Scholes to consider what you have said.
* * *
Hi K,
Will do. Out of interest, what is the nature of your interest in Scholes?
This was received after asking to be on the mailing list
* * *
K
You should immediately remove the Scholes Village logo and all the extracts from the Scholes Village website from your website at www.holisticfraternity.co.uk.
You have neither requested nor been given the authorisation to include any of these items on your website. Their inclusion suggests that the Scholes Village Association agrees with what you have included in your website and it does not.
It is usual to ask permission to include extracts from another website. We will not give you permission to do so. The reasons are:
- you have taken notes out of context and given incorrect impressions;
- you have included historical text that is now out of date actions have been taken to correct most of the drainage problems;
- you have made no differentiation between problems caused by run-off and other causes (for example, by adverse road cambers);
- you have also included totally irrelevant text summer picnic; development of village green etc
We cannot prevent you from writing your own perceptions of what you think is happening in Scholes Village but wouldnt it make for better relations if you had agreed some text with the Association beforehand?
For instance, you use the wording these entries .. show quite clearly that the village is flooded because of the water run-off from the field. The village is not flooded and we have traced the occasional problems with water run-off to one damaged culvert through an informed and expert drainage assessment. We are working with RMBC to get this culvert repaired. This does not support your assertions, as you suggest.
Your wording there is a group lead by a member of the council called Friends of Keppel's Field who promote the false illusion that it is a natural grassland is also inflamatary and I am sure the group of local residents, of which I am one, who make up the Friends of Keppels Field will not be happy with this wording.
nb links mine
* * *
K,
Thanks for this and acting quickly. Apology accepted.
I spoke to XXX having seen your site and I entirely endorse her note. We were taken aback at the level of village association content that appeared on your site, without consent, much of it out of context and with an edge that we do not wish to portray. I will review the amended site over the weekend and get back to you.
Please can you also remove content from http://www.indymedia.org.uk
* * *
Hi K,
No one has contacted us directly asking for your post to be removed. Also, assuming the infomation in the article is accurate, your post does not appear to break any of the Sheffield Indymedia guidelines:
http://indymedia.org.uk/en/regions/sheffield/static/editorial.html
I'm curious as to why people at Scholes (STAG?) would have asked you not to publicise the campaign as most campaigns thrive on, and want, maximum publicity. It's also in the public interest that such information is freely available and accessible.
So, unless new information regarding this comes to light, I see no reason to hide your post or any subsequent updates you may submit.
If they want an article hidden or changed they should contact us directly, clearly stating their objections. It will then be up to the collective to decide what should be done. This is usually discussed on our email list which is free for anyone to read or contribute to (you don't have to join to post or read the archives)...
http://lists.indymedia.org/imc-sheffield
* * *
(2005)Hello K
There used to be a Scholes village website and a cricket club website but my regular link checks reported them not linking a while ago so I removed the links. I've just checked them again and run a google search but they have not reappeared. I don't have any futher information. There may be somehting on Rotherham Cricket Society visit their website at
http://www-usa10.cricket.org/link_to_database/SOCIETIES/ENG/ROTHERHAM
* * *
UPDATE 2013 : There is now a website for the cricket club, it can be viewed at scholescc.play-cricket.com/home/home.asp
This seems to be part of a business network The England and Wales Cricket Board








My meeting with RMBC Grassland and Woodland managers in 2004 - includes a link to their site

Environmentally mismanaged




...........................................................................Back to Holistic Fraternity main page .